--- For only $1 ---
Introducing The Daily Trading System That Could
DOUBLE YOUR BANK ACCOUNT
EVERY MONTH!
"Following my trades you would be doubling,
even tripling your account some months.
Let me show you how."
- Ian Cooper, 20-year Trading Professional
(Predicted the Great Recession, Lehman Brothers Bankruptcy and the UK Economic Collapse)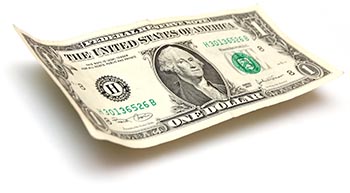 I promise this will be the most incredible $1 you spend in your life.
Because with $1 you'll unlock my brand-new, daily alert system that could double your bank account every single month.
I have the proof this is possible. In fact, I have the actual trade recommendations I showed readers dating back 24 months.
Let me say that again...
You're not about to see some back-tested concocted theory you see other hucksters peddling.
The following are real, authentic recommendations that I've made to beginner and advanced investors like you.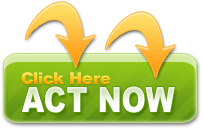 What's even better is that many of the recommendations not only doubled but also tripled again and again. Like:
195% - Celgene
186% - Disney
178% - Amgen
140% - Best Buy
271% - Deere & Co
If you want --- For just $1...
Get trade ideas exactly like these almost every day...
My next 271% play could come as early as tomorrow morning. That's why I urge you to read this entire message. (It should only take you 5 minutes).
To use my daily alert system - you don't need to be an expert trader, nor do you need any licenses or specialized education. This is for regular investors at all levels.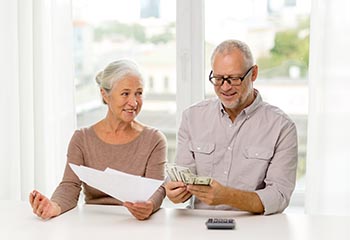 ...you might be a retiree tired of the crumbs from Social Security...
...you might be ready to surprise your boss and retire now...
...you might be looking for a vacation house in the tropics during the winter...
...heck, you might just be stockpiling a larger nest egg to pass on to your kids and grandkids...
Whatever situation you're in: A few easy stock and option trades are everything you need to potentially double your money.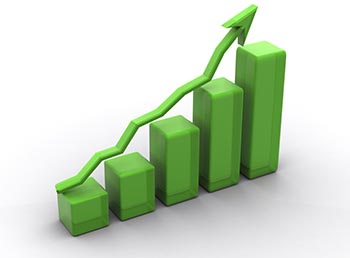 Do this from anywhere in the world with an internet connection...
And maybe 5 minutes of your day at most...
Nothing complicated...
In fact, even if you've never traded a stock or option before in your life.
What I show you is quick and easy to follow. I'll even give you the instructions. Here's a screenshot of exactly what I'll show you.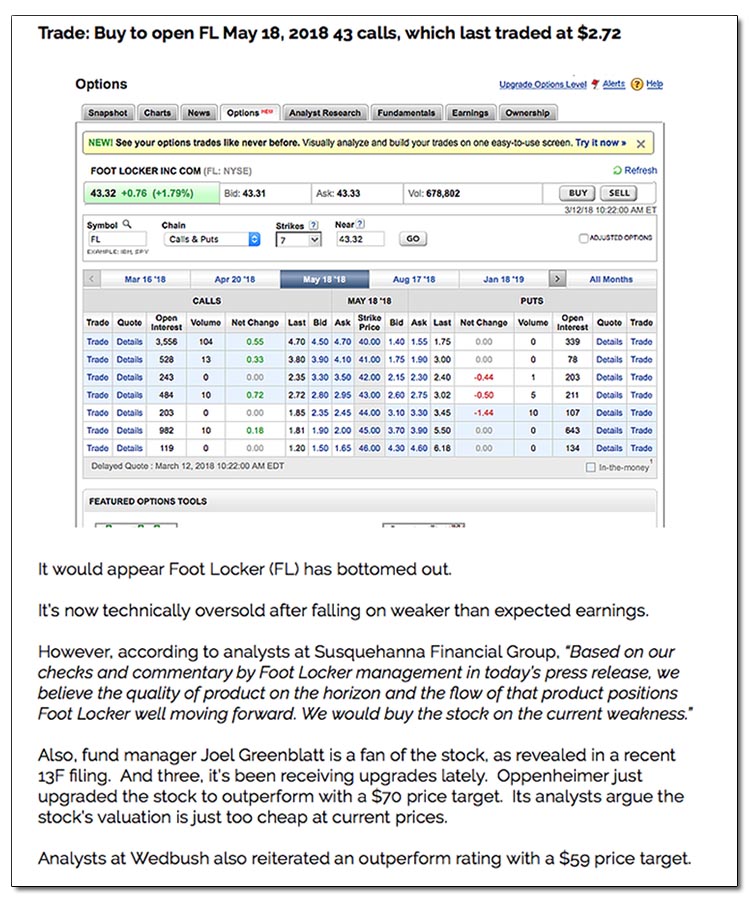 I even include an explanation of why we are making this move so you have 100% transparency of the trade.
Simply follow the daily alert system I'll show you every morning, and you might be surprised at what you will start doing.
Pay off the medical bills...go out to eat without busting any budget... put down cash for a new remodel...
These are the doors opened by 6-7 figure bank accounts.
Imagine all of this starting in just 30 days!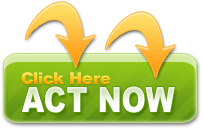 My Actual Trades Would Have
Banked More Than Double...
If you followed my recommendations over a 36 month timeframe, you would be enjoying an average of 37% profit per trade.
That's 14,279% cumulative gains over 390 trades.
...an average of 72% profits per week...
Or, 288% per month!
If you decided to be more conservative and only made one trade per week that would add up to a 148% cumulative gain. Meaning, you'd simply roll each trade four times and you'd do even better than doubling your account...
Actually, 148% is on the way to tripling your money...
Sometimes you'll see results in as little as a few days...
Imagine if you had achieved results like these, as our readers have:
251% - Vulcan (in a mere 2 days)
369% - Aetna (in 13 days)
164% - Home Depot
116% - AT&T
In less than two weeks with Aetna, you could have more than quadrupled your money. You could have turned your initial investment of $5,000 into $23,450 in 13 days with one trade.
In 48 hours with Vulcan, you would've turned $5,000 into $17,550.
Those are just a few of the trades you could've enjoyed.
If you zoom out over a period of 36 months with all my recommendations...
...I'm talking up to the end of 2019...
You'll see how easy it could've been for you to start doubling an account each month.
All it would take is a few compounded trades each month to do this. Most of the time, you wouldn't even need to complete all the trades to double up.
At the end of the month, you could've taken your profits and spoiled yourself. Or, you could've reinvested them for even more returns.
I hope you sense my excitement because...
...This might be the greatest and fastest
wealth-building machine you've ever seen...
...and for just $1...
Just look how you would've done over a full 36 month span.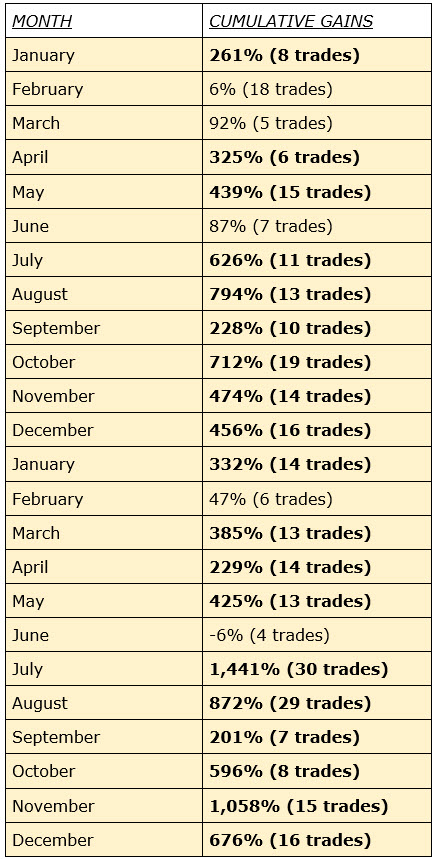 (Check out just in 2019)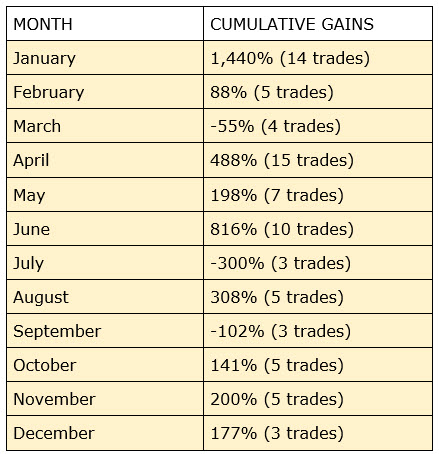 In some instances, you would've had a shot at 1,058% and 1,441% total gains.
In 2019 alone, you would've enjoyed up to 3,399% in cumulative gains.
Not to mention, you would've seen 88.8% of all months were profitable.
By simply following these daily trade alerts, you could see similar returns.
Starting tomorrow morning, I'll email you the first trade idea. Sometimes, the trade of the day will be to sell a position and lock in the profits.
The rest of the time, you choose the position size based on your account, and I'll tell you when to make your move.
Sometimes, our trades are only open a few days.
I recommended trading Intrexon, and a mere 7 days later we cashed out for 171%.
In one week, your $10,000 becomes $27,100...
However, be as flexible as you want with the trades.
If instead of compounding the gains, you wanted to go for a more 'income approach', that's okay too.
Go ahead and put a small $1,000 deposit on each daily trade. With an average of 37% gains per trade, that means you could walk away with a $740 average cash flow per week.
That's $2,960 per month from just a thousand bucks!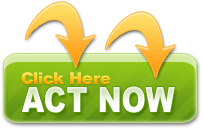 Doubling Your Account For As Little As $1
To get started, I'm not going to charge you $3,000 like some other folks to see these amazing trades.
Not at all.
Stick with me just 3 more minutes and you'll discover:
My exact trades to make every trading day (Monday - Friday)
Virtually a lifetime of riches...
And I'm pretty much giving all my best trades away...
This is no joke...again, you get all my daily trade alerts:
For just $1.
A cup of coffee costs more...
You're getting this limited time '$1 deal' because I've just opened the service to the public. Only a handful of investors have gotten a look.
Today, I'm ready for you to give it a spin.
However, a word of warning...
Due to how valuable these trades are...only the first 500 readers receive the special bonus for taking action right now. I'll show you it in a minute.
So, there's little time to waste...I'll show you how to double your account each month starting now.
But, before you make your decision, it's important you understand who I am and why I'm qualified to show you this wealth system.
20-Year Trading Expert & Designer of System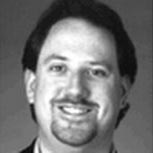 My name is Ian Cooper.
Oddly enough, I got into trading stocks and options by accident. 20 years ago, I was working in public relations and marketing agencies, saying "great things" about companies I really couldn't stand.
Can you imagine having to lie every time you went to work? It's a terrible feeling and not the way I saw my life going.
Thankfully...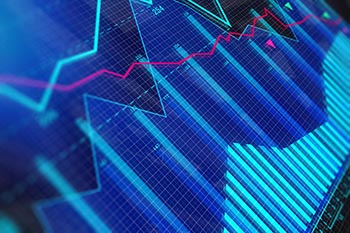 I was offered an editorial position with a financial publication I ran into. It was the best accidental meeting of my career and I ran with it.
For the next 20 years, I taught myself the ins and outs of trading, billionaire's strategy, news flow strategies, as well as the art of technical analysis.
And I think I did pretty well.
In fact...
Over the last 20 years, I was one of the few that called:
- The bottom and top of the housing market before the Great Recession,
- The top of subprime mortgages,
- The death of Lehman Brothers and Bear Stearns,
- The collapse of the UK economy and
- The Dow's collapse to 6,500, including its recovery.
I even forecasted gold to rally above $1,000 when it was trading under $850.
These are big predictions that put my name and reputation on the line. Yet, I didn't stop there.
Called Netflix at $10!
Recommended Google after IPO!
Through the years, I've had some big stock pick winners:
I recommended a buy on InterOil (IOC) at $20 a share. It would run to $400 -- a 1,900% return.
I recommended a buy on Visa (V) at $18. At $125 a share, it returned over 594% returns.
I recommended a buy on Google (GOOG) shortly after IPO and watched it race above $1,000 for gains of up to 567%.
One of my proudest recommendations -- Netflix at $10 -- raced 4,000% higher.

But, during my decades of trading, I noticed a missing service for investors like you.
There weren't any daily trade alerts that were reliable and profitable. Most only offered weekly or monthly trades...
Or, they offered daily trades where you'd be tied to your phone or email all day getting in and out of day trading positions.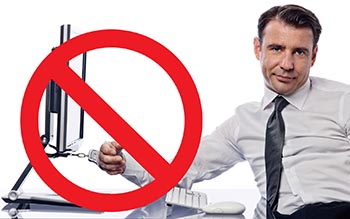 Let me be blunt:
You don't have time to sit at your computer all day trading like some Wall Street suit.
Take only 5 minutes each trading day (Monday - Friday)... get an email with a recommendation, log-in to your brokerage account and *poof* your job is done.
That's how my daily trade alert system works.
You'd think it'd be more complicated than that, but it's not.
...it's like a high-paying job without the office or the work!...
That's what you could get today for $1 and be well on your way to doubling up even in as little as 2 days.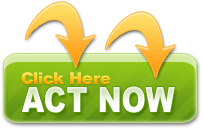 Imagine These Winners Every Single Week
Simply following my trades would've handed you monster gains like:
369% - Aetna.
251% - Vulcan Materials
195% - Celgene
106% - Sea World
186% - Disney
178% - Amgen
172% - Intrexon
102% - Royal Caribbean
271% - Deere & Co
106% - Canopy Growth
131% - HD
139% - Kush Bottles
140% - Best Buy
132% - Eli Lilly
115% - AEE
105% - VIX
100% - AT&T
143% - Boston Beer Company
224% - DIA
182% - Facebook
And there are literally hundreds of other double and triple digit winners in my portfolio. Remember, I'm giving you up to 5 trades every week. These profit-makers are just a taste of what to expect.
Not to mention, notice the diversification of the ticker symbols above.
Some gains are from huge names, like AT&T, while others are lesser-known.
Quick Example of How Next Month May Look When You Double 10X Your Account
Here's how simple it can be to double up your money. Now, every month will be a little different, but here's a lightning fast example so you can imagine it as clear as the Virgin Island water.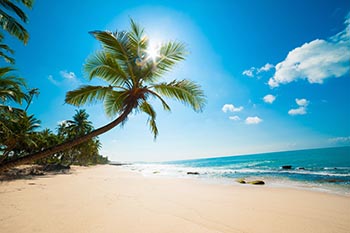 Imagine if you only make a few trades per month. Some trades I recommend will close in the next month or beyond.
For simplicity, I'll show you actual trades that closed within just over 30 days of each other.
Again, these are real recommendations I made...
On 11/2 --- you open a position on Disney with a modest $5,000.
On 11/9 --- I recommend you close the position and you do for 163%. Now, your account goes from $5,000 to $13,150.
On 11/9 --- You take your $13,150 and put in my next recommendation for AT&T.
On 11/27 --- I recommend you close the position and you lock in for a 55% profit. Now, your $13,150 is $20,382.50.
On 11/27 --- You decide to finish out your month with my 11/27 recommendation in Disney again. You put in your $20,382.50.
On 12/4 --- I recommend to close your Disney position. You do so for a 186% winner. Suddenly, your $20,382.50 is now $58,293.95.
Did you see what just happened?
Your $5,000 initial deposit by itself turns into $58,293.95 in just over 30 days.
That's a 1,065% ROI on your money!
What if you wanted to be more conservative?
You might decide not to roll your profits into each trade.
Maybe after your first trade, you decide to take out your initial $5,000 stake and roll with 'house money'.
Meaning, you'd withdraw your $5,000 and only trade with profits.
By doing that, check this out...
You'd still end the month on 12/4 with $36,128.50! All profits!
Imagine everything you could do with this newfound money...
Now --- with the daily trade alert system, on average, you should double your account. But, every so often, you'll have a few monster months like I just showed you.
A Word Of Warning
However, let me be upfront with you.
As you know, with all investing you have to take some leaps. You pick your spots carefully. Some recommendations are for more conservative companies. Others will be growing companies trading for a buck or two.
But, don't let that worry you...
At this moment, 32 of 36 months of my recommendations have turned a profit. In total, almost 9 out of 10 picks I've recommended turned a profit.
That's as close to perfection as you can get.
I'm betting if you have a 9 out of 10 shot at getting rich, you'll take it.
That's what I'm offering you here.

Right now, I'm formally inviting you into my new daily trade alert system: Trade Alert 365.
Trade Alert 365
(only $1!)
I already gave you a quick backstage look at what the service will do, but let me summarize.
Here's what you get with Trade Alert 365:
Up to every trading day (Monday - Friday unless a holiday) you get a stock or option trading recommendation. These are trades you can make inside any brokerage account. They have the potential to shoot up 182% in a week like a recent Facebook play. Some recommendations may be to sell and lock in profits.
Get exclusive access to archived and open trades to track the best trades for you. See my track record with your own eyes.
Unlimited email access to myself. I have a private Yahoo.com address I use for your questions and comments. I cannot provide personalized investment advice, however, I'm always happy to get caught up in stock talk.
Get all of this for $1.

Your $1 investment grants you an exclusive 30-day access to Trade Alert 365.
After the 30 days, you may have already collected a fortune as I've proven to you.
Still, if you want to go on receiving the daily alerts, you'll pay a small $29 per month to continue.
Just remember, most trading services offering weekly or monthly alerts will charge you around $3,000 to $5,000 per year.
You're getting more than $3,000 worth of value right now for just $1.
I'm charging the $1 so you can prove to me you're serious about this. I'm not getting rich from your buck at all.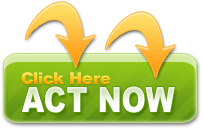 Join Before The 500 Starter Bonus Disappears
More importantly, your $1 locks in your place as one of the first 500 into the service. The first 500 receive an exclusive bonus. After the 500 threshold is met, I'm pulling the special add-on.
...I expect this to hit 500 spots in a matter of days if not hours...
You could be well on your way to doubling your account this month. No one will believe you when you show them the $1 receipt with today's date.
They'll expect you paid thousands to know this information.
Not today. If you close up this quick briefing and do nothing, you may never see this offer again.
Here's what to do now...
Put in your information below. Tomorrow you'll get your first alert hot off the presses.
Then, get ready. Because the next 30 days could be the most profitable month ever.
That's why I said at the beginning that this would be the most incredible $1 you'll spend in your life.
Join me inside Trade Alert 365 to see why.
Sincerely,



Ian Cooper
P.S. If you're one of the first 500 to join, I promised a special bonus. It's a free report titled: "How to Really Exploit Herd Mentality." The key is just two, short words...news flow. If you see a hot stock on the news, it's typically too late to invest. But, what if you could get in legally right before news goes mainstream? Page 4 will show you the three steps to beat the herd. It's a ton of fun. Join me now and gain access to this report absolutely free. ($39 value).

YES! SIGN ME UP FOR Trade Alert 365!
I'M READY TO DOUBLE MY ACCOUNT EVERY MONTH!