On June 10, 2010
A New Breed of
Cash Cow
One That's 333% More Productive
Than It's Closest Competitor…
Entered the Arena and Unleashed a
Thunderous Stampede for Profits!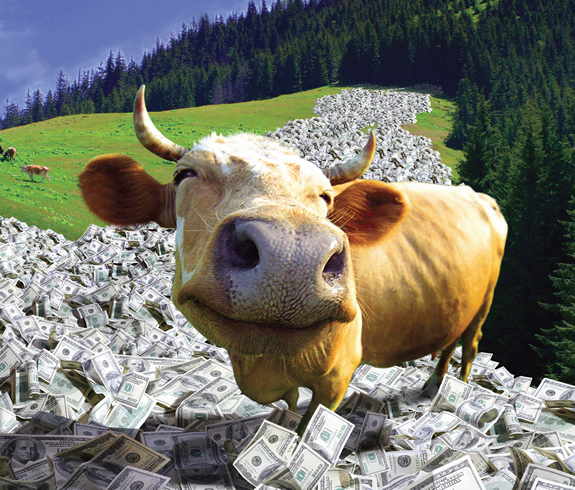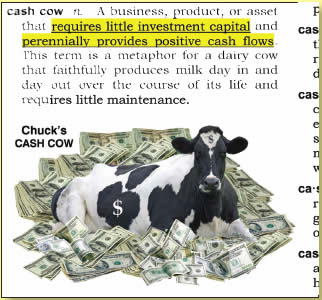 If You
Could Buy
A Genuine
Cash Cow
For
Dirt Cheap
Would You
Do It?
If you'd like to receive a big fat paycheck every single week without going to work… Chuck's Cash Cow is for you.
If you'd like to compound your profits every single week and grow a vast multi-million dollar fortune 4 times faster than ever before possible… Chuck's Cash Cow is for you.
If you'd like to have a safe, easy, surefire way to turn a few hundred dollars into a lavish, carefree lifestyle… Chuck's Cash Cow is for you.
So, please read on… and enjoy!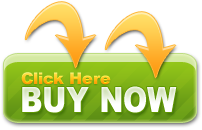 In the Future,
This Is How People Will
Get the Money They Need
To Do Whatever They Please
Only you don't have to wait…
You can start right now!
Until very recently, Chuck's Cash Cow could not have produced a single drop of income.
Because the food on which this new breed of Cash Cow feeds… which I'll tell you all about in a minute… was simply not available.
But ever since the greatest money-making invention of this century was released, Chuck's Cash Cow has proven to be the ultimate solution to just about anybody's financial needs.
For example, I've been milking Chuck's Cash Cow from two of my retirement accounts. And all I can say is… My cup runneth over!
So far, those two accounts alone have a total of $332,597.96 in actual open trade profits … M-m-m good!
And another account has given me an average return as high as 452% to 542.8% in just a few short days!
Can't you just taste those delicious profits now? I sure can!
My name's Chuck Hughes and in all my 27 years as a professional trader, author and award-winning advisor, I've never seen anything to compare with the priceless Chuck's Cash Cow I'm going to tell you about today.
In fact, I won't just tell you… I'll prove the perpetual money-making power of Chuck's Cash Cow by showing you my actual broker statements.
You'll be able to see for yourself how Chuck's Cash Cow churned out $332,598 in actual live profits for my two retirement accounts.
And that's not counting the millions of dollars I've got piling up in other accounts!
I'll tell you more about all the money you can expect to make in a minute.
But, first there's something I want you to realize…
True To Its Name,
Chuck's Cash Cow Requires VERY LITTLE
Time, Effort, or Money to Start
Look up Cash Cow in the dictionary and you'll see it's a term for something that produces a continuous cash flow with very little effort.
The Cash Cow metaphor refers to the way a dairy cow produces milk day in and day out over the course of its life; and requires practically no maintenance.
And true to its name, even though Chuck's Cash Cow takes very little time, effort, or money to start, it can produce a generous weekly income you can count on.

Not Only Is Chuck's Cash Cow Safe and Easy,
Chuck's Cash Cow Can Make You Rich
4 Times Faster than the Closest Competition!

I think you'll find, milking Chuck's Cash Cow for a steady stream of profits is safe, easy, and one of the fastest ways to get rich there is.

Helen, a stay-at-home mother of 6, made $120,000 in less than 6 months
There's a 74-year-old engineer who made $93,999 in 7 months
A retired banker has been averaging a profit of $60,130 per month.
And Dan in NJ made over $1.5 million so far!

Each of these everyday people have been earning extreme profits faster and easier than they ever dreamed possible. So, why not you?

Since I've taken first place in the world's most prestigious real-money trading championship more times than anyone else in history, I'm generally considered a pretty good judge when it comes to wealth-building potential.

Anne, from New Jersey, made $35,225 in just 5 weeks

"It's easy to do and best of all it really works!"

"I originally started with $16,300 and now my account has grown to more than $62,000!"

"I currently have a $35,225 profit with an average return of 127% over the past 5 weeks. Not bad for a beginner!"
So when I tell you… no matter what moneymaking approach you've tried before, Chuck's Cash Cow is 333% greater than its closest competitor… you know you can take that to the bank!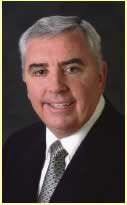 International Trading Champion
Chuck Hughes
Over the past 27 years Chuck Hughes has earned international acclaim as a leading authority in high-profit, risk-controlled, wealth building. His approach has brought instant success and vast wealth to thousands of men and women the world over… and you could be next!
The same Trading Championship that brought Larry Williams instant fame in the 80's has been won by Chuck Hughes more times than anyone else in the prestigious competition's 30-year history… Chuck has a record-breaking 7 first-place wins… as well as numerous 2nd & 3rd place wins… using real money in a live trading account.
Hughes' Advisory service has generated $6.4 million dollars in live trading profits over the past decade, without a single losing year.
Chuck's high-priced seminars to sold-out crowds reportedly pay for themselves almost immediately.
Books and home study courses authored by Chuck Hughes have become the "wealth-building bible" for risk-adverse wealth seekers.
Chuck's revolutionary Wealth Creation Alliance is the first mastermind organization of its kind committed to empowering ordinary people to achieve extraordinary wealth.
Using his award winning strategies to harness the power of the greatest income generating mechanism of the 21st century, Chuck created his new W.O.W Guaranteed Income course and Chuck's Cash Cow weekly update… Available for the first time in
June 2012.
Chuck Hughes makes his own money using the same methods he teaches and says, "Learning to make money from someone who hasn't gotten rich with that same method is like taking flying lessons from an instructor who has never been inside a plane. Come fly with me!"
Can You Imagine
What Happens When
The BEST Gets
4 Times Better?
Even before my recent Cash Cow innovation, my award-winning approach to wealth creation was no doubt far superior to anything you've tried, or even seen before…

Otherwise, how could I keep taking first place in all these highly regarded live competitions?

And how could I possibly produce real-live trading results like this with anything less than the best?


As you marvel at the results below… which were achieved during the worst financial crisis since the great depression, followed by unprecedented economic chaos… please keep two things in mind:

These are actual cash profits… using real money.'
These profits were generated several years BEFORE the greatest money-making invention of the 21st century made Chuck's Cash Cow possible.

Can you imagine earning annualized returns of 377.5%... TIMES 4!!!!

Well, that's exactly what Chuck's Cash Cow could potentially do for you.

Let me tell you all about it… starting with what may be the greatest moneymaking invention of this century.

"I made nearly $30,000 profit in just one day!" - Dr. Jack, retired optometrist

"I guess you could call trading a hobby for me, because I do enjoy doing it. But it is also a job, because it provides an income source. So it's a job that I enjoy doing."

"And it can be very exciting… I made nearly $30,000 profit in just one day!"

Before June 10, 2010
Chuck's Cash Cow
Was NOT Possible
The high-octane diet on which Chuck's Cash Cow feeds was the brainchild of Think-or-swim's co-founder, Tom Sosnoff.
Calling the exciting new innovation "Quickies", Sosnoff pitched his idea to the CBOE in 2005.
"See-Bo", as the institution is affectionately referred, rejected the name "Quickies" because they thought it had undesirable sexual connotations… stodgy old coots.
But the concept of offering people a high-powered, low-risk, easy-money alternative was something they liked very much.
So, they applied to US regulators and by the end of 2005 got permission to run a limited test program; which almost nobody knew about.
Then, on June 10, 2010 this powerful new profit generator was extended to nearly 100 stocks and ETFs, and the crowds went wild!
Within 12 months the mighty machine that spins profits 4 times faster than the closest competitor… the instrument that feeds the inexhaustible Chuck's Cash Cow… the hottest thing to hit Wall Street since online trading accounted for more than 14% of all volume!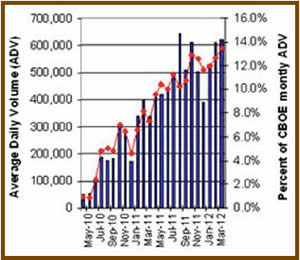 In case you haven't heard…
The Hottest New Thing
Taking Wall Street by Storm
Is None Other Than Weekly Options
The profit generating mechanism taking Wall Street by storm is ultra-short-term options. Options that come out on Thursday and expire the following Friday… just 6 trading days later.
As of April 2012, Weeklys are offered on 113 stocks…26 ETFs… and 6 indexes.
That's less than 2% of all publicly traded securities… Yet, their popularity is so great they account for more than 14% of ALL option trading volume.
For some companies, such as Apple and Google, a whopping 40% of all option transactions are now attributed to Weeklys. And the numbers are growing fast.
So what's all the excitement about, you ask. Let me tell you.
6 Reasons Why Weekly Options
Could Be the Greatest Income Generating
Invention of the 21st Century
| | |
| --- | --- |
| One | You can receive a generous Chuck's Cash Cow paycheck 52 times a year using Weeklys… And enjoy 333% more low-risk income than with ordinary monthly options. Click here to learn more |
| Two | Because Weekly's are ultra-short-term, they're super cheap. And that means you can start with very little money… and trade a portfolio of 5 options with as little as $269, Click here to learn more |
| Three | Weeklys soar 100%, 500%, 1,000% or more on a very regular basis…. Giving you astronomical profit potential every single week. |
| Four | The unique nature of short-term weekly options often gives you an opportunity to double-dip and earn even more income that week. |
| Five | Weeklys are easily traded securities… They trade just like stocks... And, with the daily volume greater than 600,000 contracts on only 145 securities, you get excellent liquidity and a very tight bid/ask spread. |
| Six | You can compound your profits every single week…week after week… 4 times more often than ever before… And enjoy explosive, exponential growth that can easily turn a small nest egg into a vast fortune faster than you ever dreamed possible. |
Low-Risk… Consistent Income… Super Cheap…Tremendous Leverage… Astronomical Profits… Double-Dipping… Great Liquidity… Exponential Growth… and Vast Wealth… WOW!
In fact… I say double WOW! Take a look at what the Weeklys can do in a single week and I think you'll agree…Weeklys Make It Easy
For You to Earn
Huge Profits in Just a Few Days
The printout below, taken from one of my live trading accounts, shows four trades opened on Monday …closed on Friday… and earning a big fat paycheck of $1,451.50.
It's condensed to fit on the page, making it kind of hard to read. But I wanted you to see that this is the real deal… nothing is left out… nothing is hypothetical. So, I put it in as is.
But please, don't strain your eyes trying to read all the fine print. I'll follow-up with the important details in easy-to- read 12pt font.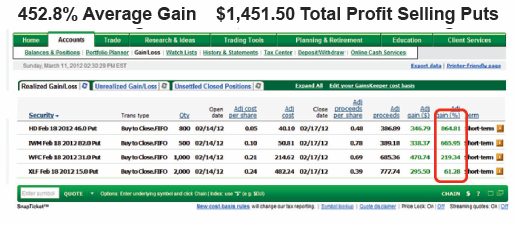 $1,451.50 profit in just four days time. Are you impressed? You should be. The power of Weekly Options has changed everything…
Earning profits of 219%, 666%, 864% or more… in less than a week… profits that once made headline news… has suddenly become common-place
Above you see an average gain of 452.8% in three days.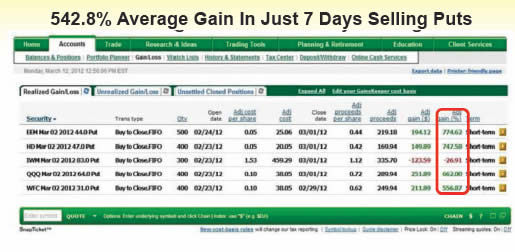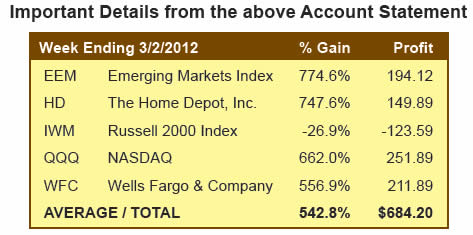 And just two weeks later I earned an average gain of 542.8%!
Here's a perfect example of how you can start small and increase your trade-size as profits mount.
But, compounding those profits week after week… it won't be a small account for long!
The Wealth-Creating Strategies
That Made Me Rich
Are Now Super-Charged to WOW
The wealth creating strategies that made me rich still work…Except now, using weekly options, they've been supercharged to WOW!
So, I re-wrote the book on option trading. And I gave it the only title that seemed
appropriate… I call it W.O.W.
W.O.W. stands for Weekly Option Winners. And W.O.W. Guaranteed Income is the next chapter in my story about how you can own a genuine Cash Cow for dirt cheap.

Don't worry, I'll tell you all about the super-simple, nearly automatic Chuck's Cash Cow very soon. But first, I need to tell you about W.O.W. Guaranteed Income.

I Wrote This Course For
YOU and Depending
On What You Do
You May Even Get It
For FREE!

I started trading weekly options in 2010.

And, seeing all those Weekly Option Winners building up in my account, you can understand why I became an immediate fan.

But I didn't give any thought to creating a course until one day my son, Ryan, said, "Hey Dad, why are you being so secretive about those new weekly options?"

"In just two short months I have made profits of $23,568.36. Chuck, this is probably not news to you – since your record speaks for itself!

I would like to thank you for your service and hope you keep up the great work."
— Bob G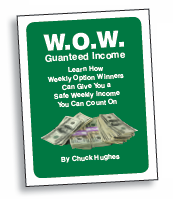 Then he went on to say, "When something this good comes along, don't you think you ought to let people know about it?"
Well, he had me there.
Ryan knows the rewarding sense of gratification I feel every time someone tells me how my wealth creating strategies have changed their life.
Gilles, is a perfect example.
Being the responsible, upstanding gentleman that he is, Gilles tried do everything right. And by age 55 he already had more than $1.5 Million for retirement.
Then, through no fault of his own, his hopes and dreams for a golden retirement evaporated into thin air.
Tragically, Gilles' tale of woe is all too common in America today.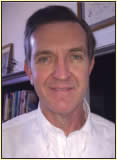 But, Gilles lucked out. Or, I should say, Gilles changed his luck.
And now, instead of a sad final chapter, Gilles is back on top.
He has more money to spend today… He's looking forward to a marvelous future… And he's planning a legacy of wealth that could last for generations to come.
Now it's your turn!
Imagine How a Weekly
Guaranteed Income
Could Change Your Life
Ryan's right about weekly options making it easy for ordinary folks to achieve financial independence faster than ever before.
So, I rolled up my sleeves and went to work.
First I wrote W.O.W. Guaranteed Income. And then, to make everything super easy, I createdChuck's Cash Cow so you'd know exactly where to find the best profit opportunities in any given week.
Talk about easy money!
The #1 Secret to
W.O.W. Guaranteed Income
Is to Be a Winner
94% of the Time
What was the first thing you noticed when you saw the performance statistics from my actual trading results?
Was it the 377.5% return or $3.308 Million profit that caught your eye? If so, who could blame you?
Triple-digit returns and more than $3.3 million in cash would be a dream-come-true for just about anybody.

But, if an avalanche of $100 bills is what you seek, there's something much more important you need first.
The statistic MOST important to you is the one that CAUSED the 377.5% annualized return and CREATED the $3.3 million in ready-to-spend dollars.
The most important statistic to you is this one… Percent Wins: 94.1%.
W.O.W. Guaranteed Income starts by showing you how to "stack the deck" in your favor so you too can win better than 9-out-of-10 trades.
And, as I think you already know, if you can churn out 94.1% winners every single week your money worries are over forever… Because you've got yourself a genuine Cash Cow!
"Stacking the Deck"
So You Win 9-out-of-10 trades
Can Be Easier Than You Think
You'll be astounded when you see how easy it is to stack the deck in your favor… play only the strongest cards… and win better than 9-out-of-10 trades.
Twenty-seven years ago… when I first got interested in trading… I realized that winning is really a simple matter of physics…
When money is flooding into a stock or ETF, it creates pressure that will FORCE the price higher no matter what the "fundamentals" say.
And the reverse is equally true when money is pouring out.
All you have to do is measure the buying and selling PRESSURE… and then put your money where the pressure is greatest.
It really is quite simple… The problem for most people is getting an accurate cash flow measurement you can count on.
Lucky for me, and now for you too… I stumbled across a combination of indicators that works like magic!
Five common, readily available indicators… when assembled into a single instrument… measure cash flow and buying pressure on any stock as easily as instruments in a cockpit measure speed and altitude of an airplane.
Suddenly, I had a crystal-clear, almost radar-like picture of where the money was moving, and where the profits could be found.
What a life-changing "secret weapon" my discovery turned out to be!
Just Follow the Money
Straight to Where
The Profits Are!
The secret weapon I used 27 years ago to follow the money… identify stocks with the greatest profit potential … and earn $460,164 profit my first two years of trading,
(starting with just $4,600)...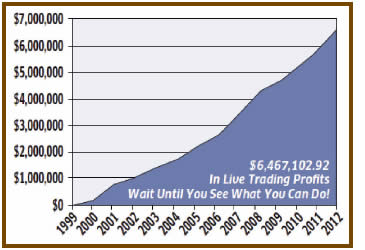 Is the same secret weapon I've used over the past decade to generate live trading profits totaling $6.467 Million, without a single losing year.
And it's the same secret weapon I used to assemble winning portfolios… which produced a combined average weekly return of 502.8% from selling puts.
Above all else, I owe my success as a trader to this one secret weapon.
And now I'm giving it to you.
Chapter One of W.O.W. Guaranteed Income tells everything there is to know about the secret weapon to which I owe my trading success… down to the last detail.
And better yet… Chuck's Cash Cow does all the work for you every single week!
But wait, I'm getting ahead of myself. Before we talk about how easy it's going to be with the help of Chuck's Cash Cow... let's take a closer look at what it is that you're
going to do.
And Now It Starts…
A Thunderous Stampede
For Chuck's Cash Cow Profits!
My secret weapon for identifying winners has been the springboard to a lifetime of trading success… not to mention abundant wealth.
So naturally, when weekly options came out the first thing I did was run the 100 available stocks, ETFs, and indexes through my qualifying process… only the crème de la crème would do!
A total of 13 securities made the cut.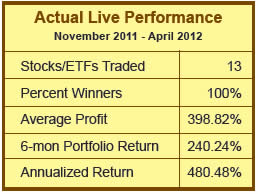 Confident that my "deck was stacked" with winners, I started buying options.
But, instead of buying regular monthly options, I bought weeklys.
And to my amazement, a stampede of profits thundered my way!
I always knew compounding was a powerful force. Einstein called it the 8th wonder of the world.
But, seeing the process amped up to every week had a more explosive effect than even I expected.
An amazing 100% winners… producing an incredible 480.48% annualized return… in live trading… can you say W.O.W.!!!!
And as you'll soon see, Chuck's Cash Cow makes W.O.W. Guaranteed Income almost automatic.
But, before I tell you about Chuck's Cash Cow, let's take a look at some of the other profit boosting secrets you'll discover in W.O.W. Guaranteed Income.
W.O.W. Guaranteed Income
Reveals Profit Boosting Secrets
You Won't Find Anywhere Else
Even if you're an experienced option trader, there are a few things about trading weeklys you probably don't know.
For example...
Did you know there's a guaranteed way to slash commissions to the bone? Regardless of who your broker is, you can pay a small fraction of what other traders pay and boost your profits considerably. Learn how in Chapter 3.
Do you know how to set yourself up with a perpetual weekly income that will continue to pay even if the market declines? If not, you owe it to yourself to find out how in Chapter 4.
Does the term "Double Dip" put $$$ in your eyes? If it doesn't now, it sure will when you read how simple it is to double-up your profits in Chapter 6.
Are you intrigued? I'll bet you are! And that's just a small sample of what you'll find in W.O.W. Guaranteed Income.
And the best part is, every strategy is cut-and-dry. There's not a single thing for you to figure out for yourself.
And that makes it a whole lot easier and much more profitable than what most traders struggle with.
But, don't take my word for it… read what Steve has to say…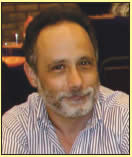 "You have your rules
of the trade and you
just follow them"
Steve F.
"I started trading back in 1999. I took a trading course but the rules were so confusing I never really knew what to do."
"I'd think… This looks right so I'd place a trade, but then it would start going against me and I'd get out. And it would end up turning around and going my way."
"Or maybe I'd stay in a losing trade too long. Until I'd decide, you know this is stupid.
Then I'd end up getting out with a bigger loss than I should have."
"The whole thing was just insane. And I lost money."
"Then I took Chuck's course. I read the entire thing, and it made good sense. And I knew it was something I could do."
"You have your rules of the trade and you just follow them. If it's time to get out, you get out. And if you should stay in and keep going, then you do that. It's very good."
Steve learned early on, just as I did… if you fly by the seat of your pants, you're bound to crash and burn.
On the other hand, success comes easy when you follow a good reliable flight plan.
Think of W.O.W. Guaranteed Income as your flight plan for soaring profits.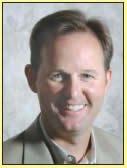 The information contained in W.O.W. Guaranteed Income is simple, concise, and easy-to-follow. But best of all, as Eric will be happy to tell you, it works!
"In a very volatile… down market… Net gain was $12,000 in March, and in April I made another $10,000!" Eric G.
"When the market started to fall apart, I needed a different way to look at things. That's when I heard about Chuck Hughes."
"His methods are very simple. They're easy to execute. And they work."
"Even a brand new trader should do well if they're disciplined and adhere to sound money management. Chuck's strategies aren't based on some complicated algorithm. They're based on how the market works."
"This past spring, because of the volatility in the market, I switched to his spread trading strategy. And I racked up huge profits. My net gain was $12,000 for March, and in April I made another $10,000. In a very volatile, and for the most part down market, that was just great."
4 W.O.W. Strategies Keep
Chuck's Cash Cow Producing
Exciting Profits Under Any Market Conditions
The spread trading strategy Eric just told you about is one of four W.O.W. strategies that keep Chuck's Cash Cow producing delicious profits under ANY and ALL market conditions.
Here are the four W.O.W. strategies utilized by Chuck's Cash Cow…
Option Purchase…480% annualized return
Covered Calls… $124,000 monthly income
Naked Puts… average weekly profit 502.8%
Option Spreads… $22,000 in 2 mos
If you've traded options before, some of these strategies may sound familiar.
But, as Steve and Eric both agree… as do Anne, Gilles, and  Dr. Jack (all of whom are sharing their stories with you today)… the W.O.W. step-by-step approach to winning is much easier, and much more profitable than anything you've ever tried before.
W.O.W. Guaranteed Income is your foolproof plan for achieving the wealth you desire. And Chuck's Cash Cow makes it quick and easy to do… as I'll explain now.
Introducing
Chuck's Cash Cow
Chuck's Cash Cow does the work. You reap the rewards!
There are currently 113 stocks, 26 ETFs and 6 indexes for which weekly options are available… 145 securities in all. But only a few will qualify for W.O.W. Guaranteed Income at any given time.
Every week Chuck's Cash Cow will send you a shortlist of stocks, ETFs and indexes you can most likely count on to produce exciting profits and a steady income.
I want to stress that each candidate on the Chuck's Cash Cow list has been carefully selected using a powerful secret weapon, click here to learn more.
And, as you can see if you click here, you could make more money than most fund managers by simply buying stock in every company on the list.
Even if we stopped right there, I think you'll agree Chuck's Cash Cow would be a tremendous wealth-building asset regardless of what system you were trading.
But, of course, we don't stop there. A winning list of candidates is just the beginning.
Each Chuck's Cash Cow listing also gives you valuable information regarding the industry group to which it belongs. So you can choose a diversified portfolio of winners in a matter of minutes.
And finally, Chuck's Cash Cow gives you helpful market insight and specific W.O.W. strategy suggestions.
Think of all the time you'll save… the confidence you'll gain… and the money you'll make when you say "Yes" to Chuck's Cash Cow.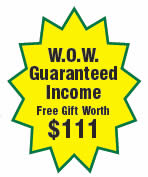 FREE
W.O.W. Guaranteed Income
Limited Time – Introductory Offer
Under the terms of this special introductory offer, here is a risk-free way you can cash in...
Chuck's Cash Cow W.O.W Package – $97quarterly This is positively the deal of the century! If you say "Yes" to a quarterly subscription to Chuck's Cash Cow for just $97, conveniently charged to your credit card every three months – You get W.O.W. Guaranteed Income manual absolutely FREE!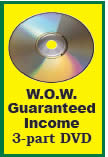 Plus… when you say "Yes" to Chuck's Cash Cow W.O.W Package you'll also receive a 3-part seminar on DVD as my welcome gift to you.
Say 'YES' Today
And Get This
Valuable FREE Gift

W.O.W. Guaranteed Income
3-part DVD is the perfect introduction to your prosperous new future… a future where you spend a few minutes every week milking
Chuck's Cash Cow
… and then you collect yourself a big fat paycheck you didn't have to work for… Imagine how liberating that will be!
Each episode of this fascinating DVD covers a different aspect of W.O.W. Guaranteed Income… all presented in a fast-paced, easy-to-follow style that'll grab your interest and bring you up to speed in a single viewing… of course you can watch as often as you like.
Watch the video… thumb through the manual… print-out Chuck's Cash Cow list…. And let the fun begin.
Because you know, winning big and winning often really is a LOT of fun!
At least it's a lot of fun for me… and it's a lot of fun for everybody else you've heard from today. So, don't you think you ought to at least give it a risk-free try?
After all, Chuck's Cash Cow W.O.W Package is backed by a lifetime guarantee.
Chuck's Cash Cow W.O.W Package
Lifetime Guarantee
When you say "Yes" to Chuck's Cash Cow W.O.W Package you have a full 3 months to make up your mind about whether Chuck's Cash Cow is right for you. If you decide to cancel, return W.O.W. Guaranteed Income manual within 90 days and you'll receive a prompt and courteous refund of every cent you paid to subscribe.
After the first 90 days you may cancel your subscription to Chuck's Cash Cow at any time for a pro-rated refund for all remaining issues. But, YOU RETURN NOTHING… W.O.W. Guaranteed Income will be yours to keep and profit from forever!
Why Not Give It a Try Now
And Then Decide?

As an open minded person, who likes to investigate before judging, this is the perfect opportunity for you to satisfy your curiosity…
Find out what W.O.W. Guaranteed Income is all about… and see for yourself exactly how much Chuck's Cash Cow can do for you.
Even if you ask for a full 100% refund, W.O.W. Guaranteed Income 3-part DVD is yours to keep forever… The wisdom and experience is yours to keep forever… And any profits you may have earned are yours to keep forever.
From where I sit, you have everything to gain and nothing to lose.
And that being the case, why wait? Grab your credit card, pick up the phone and give us a call now. You'll be glad you did. I promise!

P.S. One of the wisest bits of insight my father ever passed down to me was this: "I've never regretted anything that I've done in life… only those things that I have not done."

If you don't at least give Chuck's Cash Cow a try, I think you're going to regret it one day. Please, don't let that happen…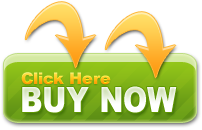 If not this, then what? If not now, then when?
PAST PERFORMANCE IS NOT INDICATIVE OF FUTURE RESULTS. TRADING ON MARGIN CARRIES A HIGH LEVEL OF RISK, AND MAY NOT BE SUITABLE FOR ALL INVESTORS. BEFORE DECIDING TO INVEST IN OPTIONS YOU SHOULD CAREFULLY CONSIDER YOUR INVESTMENT OBJECTIVES, LEVEL OF EXPERIENCE, AND RISK APPETITE. THE POSSIBILITY EXISTS THAT YOU COULD SUSTAIN A LOSS OF SOME OR ALL OF YOUR INITIAL INVESTMENT AND THEREFORE YOU SHOULD NOT INVEST MONEY THAT YOU CANNOT AFFORD TO LOSE. YOU SHOULD BE AWARE OF ALL THE RISKS ASSOCIATED WITH OPTIONS TRADING, AND SEEK ADVICE FROM AN INDEPENDENT FINANCIAL ADVISOR IF YOU HAVE ANY DOUBTS. NO STATEMENT WITHIN THIS BROCHURE SHOULD BE CONSTRUED AS A RECOMMENDATION TO BUY OR SELL A SECURITY OR TO PROVIDE YOU WITH INVESTMENT ADVICE.
TESTIMONIALS CONTAINED HEREIN WERE PROVIDED WITHOUT COMPENSATION. WHILE THE EXPERIENCES DESCRIBED ARE BELIEVED TO BE TRUE, THEIR CLAIMS HAVE NOT BEEN VERIFIED, NOR HAVE PHOTOS BEEN AUTHENTICATED, NOR HAS ANY ATTEMPT BEEN MADE TO DETERMINE THE EXPERIENCE OF THE INDIVIDUALS AFTER THE TESTIMONIALS WERE GIVEN. TESTIMONIALS ONLY PROVIDE THE PERSPECTIVE OF INDIVIDUALS WHO WERE SUCCESSFUL AND SATISFIED WITH THEIR EXPERIENCE. THE AVERAGE TRADER MAY OR MAY NOT EXPERIENCE SIMILAR RESULTS. PEOPLE CAN AND DO LOSE MONEY TRADING OPTIONS. THE EXAMPLES GIVEN IN TETIMONIALS MAY HAVE LIMITED APPLICABILITY TO WHAT PURCHASERS OF THE PROGRAM ADVERTISED IN THIS BROCHURE MAY GENERALLY EXPECT TO ACHIEVE, AND THE PERFORMANCE EXPERIENCED BY THE PERSONS GIVING TESTIMONIALS IS NOT WHAT PURCHASERS SHOULD EXPECT. SOME TESTIMONIALS MAY BE BASED ON PRODUCTS OR SERVICES OF CHUCK HUGHES OTHER THAN THE SPECIFIC ONES ADVERTISED IN THIS BROCHURE.
*NOTICE: SIGNALS OCCURRED IN REAL-TIME, BUT THERE IS NO COMPREHENSIVE RECORD OF ONLY THESE TRADES IN A SINGLE ACTUAL TRADING ACCOUNT, SO THIS SHOULD BE CONSIDERED HYPOTHETICAL. "HYPOTHETICAL OR SIMULATED PERFORMANCE RESULTS HAVE CERTAIN INHERENT LIMITATIONS. UNLIKE AN ACTUAL PERFORMANCE RECORD, SIMULATED RESULTS DO NOT REPRESENT ACTUAL TRADING. ALSO, SINCE THE TRADES HAVE NOT ACTUALLY EXECUTED, THE RESULTS MAY HAVE UNDER-OR-OVER COMPENSATED FOR THE IMPACT, IF ANY, OF CERTAIN MARKET FACTORS, SUCH AS LACK OF LIQUIDITY. SIMULATED TRADING
PROGRAMS IN GENERAL ARE ALSO SUBJECT TO THE FACT THAT THEY ARE DESIGNED WITH THE BENEFIT OF HINDSIGHT. NO REPRESENTATION IS BEING MADE THAT ANY ACCOUNT WILL OR IS LIKELY TO ACHIEVE PROFITS OR LOSSES SIMILAR TO THOSE SHOWN.