WIN! WIN! WIN!
Amazing reports reveal the exact proven secrets that have made millions – Yours FREE!
7 Time International Trading Champ Reveals His Secrets...
From the Desk of: Chuck Hughes
My name is Chuck Hughes, and my winning strategies for stocks and options have made me a millionaire many times over - - and they've given me a very rewarding life.
I have won more international trading champion events than any other trader in history – 7 times.
I recently made a staggering $1.02 Million in just 26 days.
My methods are so simple yet so effective!
Most gratifying of all, men and women who have followed my trade recommendations have written to tell me about their life-changing profits…

A 74-year-old engineer made $93,333 in 7 months

My neighbor, Frank, earned $285,480 in one day

Daniel J. made over $1 Million last year and is now interviewing possible replacements for his "real job"

A New Jersey real estate broker has made $203,944 in just six months

A retired banker is averaging $60,130 profits per month
I'd like to share with you all the steps that have led to my success. These methods are my gold standard – they will be your foundation to building wealth and your best opportunity for success.
Get Chuck Hughes Micro Cap Profit Alert Report - FREE!
I am here to tell you the 'Lost Decade' of stock investing has been found! Just like Mark Twain's death, I believe the death of the stock market has been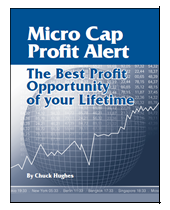 greatly exaggerated. No, I am not naive or a Pollyannaish. I know that the broad based S&P 500 Index, the blue chip Dow Jones Industrial Average and the NASDAQ Composite Index all produced negative returns over the last decade from January 1st 2000 to January 1st 2010. But all is not lost. Rising out of the ashes of this decade is a stock asset class that has performed very well! I want to introduce you to this asset class.
I also want to share with you the answer to the question that I get frequently, "How do I make money in this market?" The answer is easy and the profits are large. Small company stocks are the savior of the investing world. I want to show you how small company stocks produced amazing returns during one of the most turbulent investing decades in history! I want to demonstrate what small and micro cap stocks can do for you!
Nothing is more exciting to me than the profit potential and performance record of small company stocks. Can you tell me, over the 2000 to 2010 decade which asset class has out performed the major asset classes such as the S&P 500 Index, Treasury Bonds, home prices, corporate bonds and Treasury Bills? You may not believe it, but the answer is the 'under the radar' micro caps stocks. Micro caps have become the 'little stocks that could' in the 'lost decade' of the investing world.
Get Your Micro Cap Report - NOW!
YES! Chuck, I can't wait to get my copy of Micro Cap Profit Alert!

But Wait - It Gets Even Better!
Get Chuck Hughes Micro Cap Profit Alert Report AND the following THREE Reports FREE!
You will find that all my strategies make actual profits, which is well documented with my account statements.
I've already made my fortune, now I am giving back. I aim to see the results I achieved in those who I teach. My greatest satisfaction lies in seeing you succeed. My reports provide you with the keys that can turn your financial life around. Join us, and allow me to prove it to you!
Get ALL FOUR Reports - NOW!
YES! Chuck, I can't wait to get my copy of Micro Cap Profit Alert, The Beginers Practical Guide to Options Trading, Your Best Opportunity for Investment Success and The Key to Profits in Tough Times

To Your Success,



Chuck Hughes